Meet Dr. Stephie Althouse, our Founder/CEO.
Dr. Stephie defines success as a three-legged stool.
The three legs are:
Make money (profit),
Make a difference with your expertise/brilliance,
Create a great quality of life.
Dr. Stephie Althouse (maiden name Vierkotter) and her work have been featured in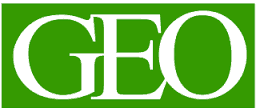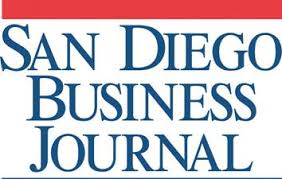 She has been working with organizations such has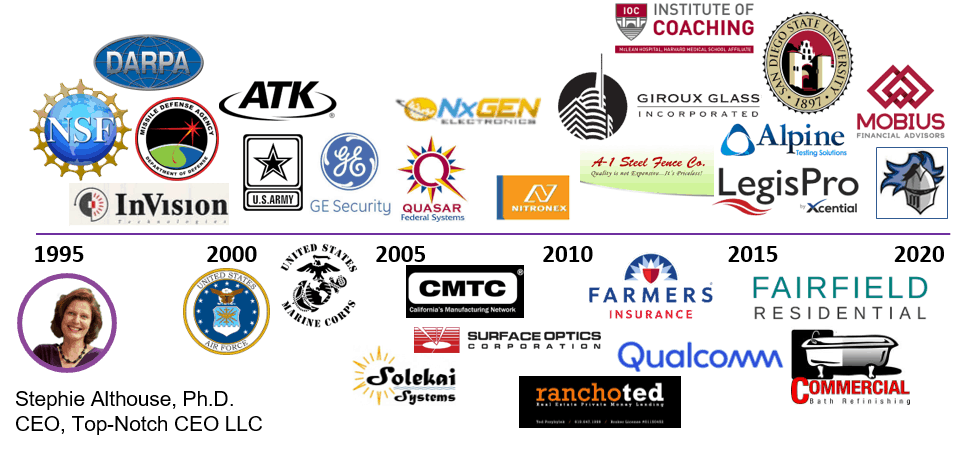 Dr. Stephie's Journey At a Glance
Ph.D. chemist, award-winning scientist, and innovator.

As Principal Investigator and Group Leader, she attracted her own funding and heading up her own research area.
Recognized as 1 of 100 most promising young innovators under the age of 35 by  MIT Technology Review Magazine.
Two "Small Business InnoResearch Research" Awards.

Commercialization of Innovation

Market research
Business plan creation
Head of the Committee for the Protection of Intellectual Property
Lead of field tests including a DARPA-funded test and demonstration of a novel landmine detector in Bosnia in 1999
Founding her own company

In 2005, Dr. Stephie quit her job as a scientist and started her own company.
She worked with high-tech companies at the interface of technology development and business development.

The first business turnaround in 2009

The first business turnaround was quite successful and raised revenues of a high-tech company by 41% in the first year.

Becoming a Visiting CEO™ and working with her first non-technical company

Others recognized Dr. Stephie's abilities to grasp very quickly what was working or not working in a company.
She created the Fresh Eyes Assessment, her get-to-the-point-quickly Strategic Auditing method that tells you which area benefits the most from improvement and gives the best return on investment.
Dr. Stephie became known as "Visiting CEO™" and earned the reputation that she can quickly return companies to profitability.

Working with employee-owned companies/ ESOPs (Employee Stock Ownership Plan)

She fell in love with the concept of employee-ownership. Employee-owned companies have the opportunity to outshine non-employee owned companies in the same industry.
She turned around a company that was about to transition to being employee-owned. She was instrumental in creating employee ownership thinking in the company and laid the foundation for a smooth succession of the CEO role.
Dr. Stephie wrote a second business book called "101 Quick Tips for ESOP Leaders".
She created a website for employee-owned companies, ESOP.ico.

Becoming An Executive Business Coach with Harvard breakthrough methods

Writing down what works and becoming an author

Dr. Stephie found that many companies are founded and run by subject matter experts (SMEs).
This phenomenon is common in many industries, not only in the high-tech sector.
As a result, leaders and managers often are on their own to figure out how to be effective at leading or managing.
Writing down what works: Dr. Stephie wrote her first book "101 Quick Tips for High-Talent Companies".

Forming Top-Notch CEO Academy

Dr. Stephie founded Top-Notch CEO Academy.
The Academy initially focused on leadership and business training to business owners who began their careers as SMEs.
Offerings include the Top-Notch CEO Coaching Circle and the Accelerator Circle for group coaching.
Dr. Stephie works with private clients as their Thinking Partner which she finds a more suitable description for what executive coaching really is (or should be).
Dr. Stephie creates her first online business course called the "KISS Business Plan."

The Birth of Brilliance Extraction™ - scaling your business with your brilliance

Dr. Stephie realized that through Brilliance Extraction™ she is able to support her clients to scale their businesses quickly.
Brilliance Extraction™ makes intangible wisdom and knowledge that is in someone's brain (and that exists nowhere else in this unique combination) into a tangible, permanent asset.
The results are businesses scaling fast, smooth succession, and profitable exit strategies. Furthermore, business owners save time and money, increase their businesses' values, and regain time to think of new innovations and creations.
The method includes three steps: Brilliance Mapping™, Brilliance Extraction™, and Brilliance Replication.™
Top-Notch CEO Academy expands its offerings and now uses its Learning Management System as a tool to develop courses with clients as part of Brilliance Extraction.™

The Brilliance Cafe is born

Brilliant entrepreneurs share how they have managed to scale their businesses using their own brilliance.
They share their secrets for winning the game of converting their brilliance into impact, money, and satisfaction.
They have discovered how to leverage their brilliance, scaled their businesses, and created what they envisioned.
Their brilliance also became immortal in the process. That means their organizations are much more future-proof than just about anyone out there.
The Brilliance Cafe is absolutely free.