"I always did something I was a little not ready to do. I think that is how we grow. When there is a moment of "Wow, I'm not so sure that I can do this" and you push through those moments, it's then that you have a breakthrough. Sometimes that's a sign that something really great is about to happen. You're about to grow."
Marissa Mayer, CEO of Yahoo
According to Harvard Business Review:
"Essential attributes of game-changing organizations are that they are purpose-driven, performance-oriented, and principles-led."
Harvard Business Review article "Building a Game-Changing Talent Strategy", by Douglas A. Ready, Linda A. Hill, Robert J. Thomas (January-February 2014)
You Have to Think like a Top-Notch CEO to Be Rewarded Like One
All of our Top-Notch CEO Academy programs are designed based on our philosophy that personal growth AND a systematic understanding of business and effective leadership lead to excellence.  Unlike perfection, this leads to measurable impact.  It also leads to significant rewards, both with respect to profit and to creating the quality of life you desire for yourself and employees.
Top-Notch CEO Academy is primarily designed for innovators, visionaries and "geeks":
CEOs/founders - many are the top expert in their field of innovation, vision or area of pursuit
CEOs or C-suite executives hired to guide the team to execute the vision in a profitable manner
Professionals with extensive expertise in their field who wants to advance in their careers
Women working in a Science, Technology, Engineering or Math (STEM) field?
Top leaders or emerging leaders in an employee owned/ ESOP company?
The Benefits of Enrolling in the Top-Notch CEO Academy
As CEO or a busy entrepreneur:
Create higher revenues and profits
Realize your vision and make a bigger difference - with all the recognition and rewards that go hand-in-hand
Get MORE done with less and hence have less stress and a greater sense of work-life balance
Retain more of your top talent and avoid costly turnover
As emerging leader working in a company:
Vastly accelerate your ability as a leader and advance in your career
Make a bigger difference in your company and gain recognitions and rewards
Boost your income
Get MORE done, have less stress and enjoy greater work-life balance
The Transforming Talent Into Wealth System™
Top-Notch CEO Academy uses our propriety Transforming Talent Into Wealth System. The program was developed by Top-Notch CEO's founder, Dr. Stephie Althouse to ensure successful company turnarounds and to grow successful companies to the next level.

Dr. Stephie Althouse — known as "Dr. Stephie" to her clients — is an experienced business growth advisor and coach who is an innovator herself.  Her background is a rare combination of science, innovation, business growth experience, and proven leadership.
She's successfully turned around — and then grown high-tech/high-talent companies.  It's her wide-spectrum expertise and ongoing studies — from hard science to interpersonal chemistry and group dynamics that uniquely positions her to work well with innovators, entrepreneurs, visionaries and their teams.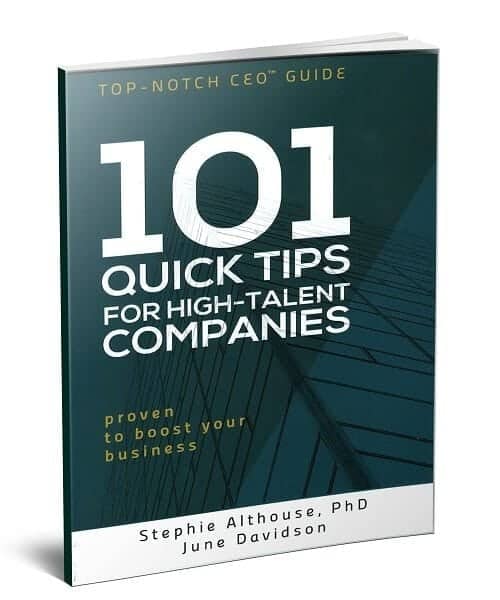 Top-Notch CEO Academy Programs and Methodoloy
Top-Notch CEO Academy offers a curriculum of business and leadership education with professional coaching.
The courses can be delivered in two formats:
Live via online video conferencing (you can call in without video when necessary)
Live workshop brought to your company or area
Program #1 - The Top-Notch CEO Launch Program
The Top-Notch CEO Launch Program is for:
Emerging leaders within a company who are looking to advance and want to elevate their CEO mindset, yet they are not ready for the full Top-Notch CEO Coaching Circle.
Solopreneurs or small business owners who want to ensure they have a top-notch CEO mindset, clearly define their goals, mission, and vision and create a highly practical operational plan to help accelerate profits.
Talented teams that desire to accelerate productivity, foster teamwork, and communication, set group goals and create a team plan that supports the company's success and employee satisfaction.
Here is the curriculum:
Session 1: Mindset mastery (including Money Mastery)
Session 2: Creating Your Top-Notch CEO Business and Life Plan, Part 1 - Vision Mission and Personal Purpose
Session 3: Creating Your Top-Notch CEO Business and Life Plan, Part 2 - Goals, Strategies
Session 4: Creating Your Top-Notch CEO Business and Life Plan, Part 3 - Action Plan
All sessions are 90 minutes and take place via video conference. The number of participants is a minimum of 6 and limited to 15.
Graduates of the Top-Notch CEO Launch Program have gained the clarity about their business that stems from discussing and writing down the components of a brief, 1-3 page Top-Notch CEO Business and Life Plan.  They have a significant headstart when they decide to continue their business & leadership training and coaching through the Top-Notch CEO Coaching Circle.
The investment for participating in the Top-Notch CEO Launch Program is only $697. *
*Half of your tuition can be applied to the Top-Notch CEO Coaching Circle if you enroll in that course within three months of graduating from the Launch Program.
Ask for special group pricing.
Program #2 - Our Foundational 12-Week Program: Top-Notch CEO Coaching Circle
In this program, we will focus on seven elements:
One, we will train and coach you in the entire Transforming Talent into Wealth System™
Two, we will take you on a deep dive into the Top-Notch CEO Mindset, examining unproductive and negative thinking and contrasting it with success thinking
Three, we will distinguish purpose, mission, vision, goals that inspire passion for your work and life
Four is to share common pitfalls to avoid and how to identify new opportunities
Five, we will leave each person with a simple but effective work and life plan that allows for focus, achievement and greater work-life balance
Six, we will set up a structure for coaching and accountability that allows participants to thrive and reach their goals faster than expected. This is the glue that brings the program together.
Seven, after discussing the entire Transforming Talent into Wealth™ system, we will guide you to set three top goals that will accelerate your further progress the most.
The Top-Notch CEO Coaching Circle at a glance:
You will discover, digest and begin to apply the complete Transforming Talent Into Wealth™ system
Supported by our membership site that contains everything you need, you will prepare yourself to discuss one component of the Transforming Talent into Wealth™  system (that takes about 30 minutes per week). You can either read the material or listen to an audio recording
We meet once per week, via video conference, for 90 minutes, to discuss the material in a confidential group of 6 hand-selected participants
Breakthroughs stem not only from the knowledge of the system but even more so from the discussion of how the material plays out in your business/ work environment.  That is why we ask you to prepare so we can invest our time together on that, rather than teaching the material. We will go deeper into the material during the sessions
Importantly, you do not need to stop what you are doing because the program is designed to be doable for busy CEOs, entrepreneurs, and professionals who are emerging leaders

You invest about 30 minutes per week on average in preparing yourself for each session
That means the total time commitment is only about 2 hours per week for 12 weeks to get a well-rounded understanding of business and leadership

We will place you in a circle of people similar to your level
You will create three main goals to drive you forward - selected from the discussion of  the entire Transforming Talent into Wealth™ system
To graduate, you will also create a 1-2 page Top-Notch CEO business plan™
The investment for participating in the Top-Notch CEO Coaching Circle is only $2,997.
That is far less than any equivalent business education, at a fraction of the time that would normally need to be invested.  The reason we are able to offer this program is because the system is highly practical and proven to work.  It was designed by Dr. Stephie Althouse who is not only an innovator but also a seasoned executive and turnaround authority.  Read more about her background here.
Program #3 - The Accelerator Circle™
The Accelerator Circle is exclusively designed for graduates of the Top-Notch CEO Coaching Circle. The results that people achieve individually and as part of a team are extraordinary.
In some cases, 1-on-1 coaching clients who have worked with Top-Notch CEO™ and who are very familiar with the business concepts taught in the Top-Notch CEO Coaching Circle qualify.
This program is designed to accelerate achievement of the goals and the implementation of the Top-Notch CEO Business Plan graduates of the Top-Notch CEO Coaching Circle have established.  Participants receive skillful executive coaching, accountability, encouragement, and support leading to a significant acceleration in bringing their goals and their companies to fruition.
The Accelerator Circle is done in two formats:
The first format combines individual graduates from current and past Top-Notch Coaching Circles
The second format works exclusively with a team or company that participated in the Top-Notch Coaching Circle and wishes to accelerate the progress and momentum together
The Accelerator Circle at a glance:
We meet once per week, four times per month. for 60 minutes via video conference.
Each week you will set one or several goals you are committed to accomplishing in between sessions.
Each week you report on how you did with accomplishing the goals you committed to the previous week.
Each week you have the opportunity to receive advanced coaching around challenges you are encountering.
The coaching sessions are confidential. Each circle member signs a confidentiality agreement.
The sessions are recorded for review, by the circle members and Top-Notch CEO Staff only - that way you can review a session or catch up on a session you missed.
The number of participants is 4-6 hand selected leaders.
Minimum commitment is 6 months; 12 months is ideal for optimum results.
We offer a number of Accelerator Circle packages.  A popular option is to add additional 1-on-1 coaching (in 25 minutes increments).  Participants who decide to join the Accelerator Circle before the conclusion of their Top-Notch Coaching CEO Circle get preferred pricing.  Packages start at $500/month. 
Ask for group pricing.
Top-Notch CEO Academy also offers a curriculum of business and leadership education via live workshops and interactive webinars/video conferencing.
These workshops are delivered in two formats:
Live workshop brought to your company or area
Interactive webinar / video conferencing
Courses for Geeks ( Subject Matter Experts):
Highly Effective Communication Skills for Highly Effective Geeks
Join us for this amazing workshop, written and taught by the internationally renowned trainer Dian Anderson.
We offer this program in different formats:One- or Two-day Seminar or a Six-hour Webinar
Introduction:
You are great at what you do - you are a top expert in your craft. Yet, how effective are you in communicating with others? We invite you to ponder these questions:
Do you sometimes feel frustrated by misunderstandings and breakdowns in communications?
What do these misunderstandings and breakdowns cost you, in terms of progress in your work and career, team harmony, profit/income, stress level, and happiness?
What outcomes do you want most from your communications?
What would it feel like to communicate more effectively, and with much greater ease?
Objectives:
Select the Best Method of Communication
Communication Models
Establish Personal Credibility Quickly
Words that Lower Your Credibility
Apply Cross-Generational Communication
Deliver Negative News with Tact and Diplomacy
Understand the Purposes of Business Communication
Listen Effectively
Communications with Different Personalities
From Managing Yourself to Meeting Deadlines
Written and taught by Dian Anderson
One-day Seminar or a Six-hour Webinar
Introduction:
As top expert (lovingly called "geek") you have so much to offer.  Your ideas are often groundbreaking. You can do things that most cannot.
Yet, when you are in the flow of that type of work, how can you "manage" yourself, so that the team knows they can count on you to deliver what you have promised by the time you promised it?
We understand: It can be tricky.
That is exactly why we have put together this workshop, exactly for highly talented people like you.
Join us for this amazing workshop, taught by the internationally renowned trainer Dian Anderson. We offer this program in different formats:
Live workshop brought directly to your company (1-2 days)
Webinar (6 hours)
Objectives:
Gain Control of Your Day
How "Out of Control" is Your Day?
Three Productivity Killers
Steps to Improve Your Individual Productivity
Create an Action Plan to Control Your Day
Controlling Competing Priorities Like a Professional
Work S.M.A.R.T.E.R.
Urgent vs. Important
Managing Interruptions
How to Get Organized
Divide and Conquer
Managing the Phone
Controlling Paper and Physical Docs
Multitasking?
Checklists and Checkoffs
How Email and help you Stay Organized
Primer on Project Management
How Much Time to Spend on Planning
The Parkinson's Law
Life Cycle of a Project
Three Constraints of Every Project
Managing Yourself in the Time You're Given
What do Personality Styles Have to do With Productivity?
How to Say "No"
Coping with Interrupters
Stress Busters
Traits for Highly Effective Geeks
Written and taught by Dian Anderson
One- or Two-day Seminar or a Six-hour Webinar
Introduction:
Have you ever asked yourself: What makes one geek more successful than the next?
Is success always related to how much a geek knows in his field of "geekiness"? For example, is the smarter, more knowledgeable chemist going to be more successful over the one who is less smart or knowledgeable? Most of us know: The answer is "no".
If expert knowledge alone is not the key to success, then what is?
What are the traits of highly successful geeks (top experts)?
How can you hone these traits in yourself?
Join us for this exciting workshop, held by the internationally renowned trainer, Dian Anderson.
Objectives:
Principles of Successful Geeks
What does Success Mean to You?
What Makes a Person Successful?
Characteristics of Successful People
Motivation Toward Achievement
Understanding Motivation
Basic Needs of Motivation
Defining Your Purpose
Identifying Your Personal Values
Setting Goals
Developing the Skills
Creating a Plan for New Habits
Building Work Ethics
Ethical Decision-Making and Problem- Solving
Being Accountable
Getting Things Done
Building Trust & Influencing Others
Maintaining Enthusiasm
Dealing with Stress
Actions to Take
Top 15 Attributes of Highly Successful Geeks
Important vs. Urgent
The 7 Habits of Highly Successful People
10 Morning Steps to a Successful Day
Effective Communication Saves Time
Business Etiquette for Geeks
One-day Seminar or a Six-hour Webinar
Written and taught by Dian Anderson.
Introduction:
You are a top expert. More than likely, you have invested many years of your precious time to become top-notch in the discipline you are working in.  Yet, did you ever get any training on business etiquette? Most geeks roll their eyes when they hear the word "etiquette."  We are innovators, visionary, creative people - we don't have time for etiquette? Or do we? What is etiquette anyway?
The dictionary describes "etiquette" as "the customary code of polite behavior in society or among members of a particular profession or group."
Sometimes innovators break the etiquette (or the standard mold) and they win big time.
And yet, many times, you break the wrong piece of the code and you get shut out of the "club", your career or business comes to a crawl, and you wonder what happened.
If you know the etiquette at least you can make an educated decision on which rules of that "customary code" you want to abide by and which ones you might decide to break (and when).
Objectives:
Image and Perceptions
Definitions
Test Your Business Etiquette
Why is Perception Important?
What Does Your P.I.E. Look Like and Why Should You Care?
Create an Action Plan to Control Your Day
Improving Your Outer Image
The First 15 Seconds
Defining Professionalism
Professional Appearance
Nonverbal Communication
Networking
Improving Your Inner Image
Define Self-Image
Positive Attitudes
Emotional Intelligence
Managing Your Emotions
Developing Intrapersonal Expertise
Office Etiquette
Work Ethics vs. Work Etiquette
Business Manners
Cube Taboos
Meeting Etiquette
Gadget and Email Etiquette
Gadget Manners
Tech Etiquette
Netiquette Rules
Specific courses for Women in STEM (and women in other "geeky" fields):
Highly Effective Communication Skills for Women of STEM
Written by Dian Anderson
One- or Two-day Seminar or a Six-hour Webinar
Objectives:
Select the Best Method of Communication
Understanding What Constitutes Communication
Reducing the Noise around Communication
Speaking with Clarity
How to Build Rapport
Articulating Clearly
Communication Models
Effective Listening Skills
Questions and Clarification
Establish Personal Credibility Quickly
Use and Respond Effectively to Questions
Getting to the Point
Engage Others in Conversations
Feedback Checklist
Raising Your Credibility
How You Respond
The Four Styles of Communication
Rules of Communication
Power Language
Listen Effectively
Having Tact, Diplomacy and Credibility
What NOT to Say
How to say "NO"
Assertiveness Training for Women in STEM
As professional women in STEM fields (science, technology, engineering, math) advance their careers, the need to be assertive grows substantially. That is true whether you are climbing the corporate ladder or are leading your own business.
Assertiveness is a tricky subject for most, if not all women. Women are naturally more nurturing than men. They are many studies that show women to be less assertive in standing up for themselves, their visions and what they believe in.
These studies also show that when women are assertive, they are more likely to be perceived as "bitchy", non-likeable etc.
It is time to support women to get out of this dilemma.
That is why we designed this workshop. Are men welcome, too? Absolutely. (You will learn how to be assertive without being overly aggressive AND you will learn to appreciate more deeply what dilemma women in male-dominated businesses often find themselves in).
This amazing workshop, taught by the internationally renowned trainer Dian Anderson. We offer this program in different formats:
Live workshop brought directly to you (one or two days)
Webinar (six hours; could be delivered in multiple sessions)
Objectives:
What does Assertiveness and Self-confidence Mean to You?
What is Assertiveness?
What is Self-confidence?
The Four Styles
Obstacles to Your Goals
Types of Negative Thinking
Personal Application
Communication Skills
Listening and Hearing are not the Same Thing
Asking Questions
Body Language
The Importance of Goal Setting
Why Goal Setting is Important
Setting S.M.A.R.T.E.R. Goals
Our Challenge to You
Feeling the Part
Identifying Your Worth
Creating Positive Self-talk
Identifying and Addressing Your Strengths and Limitations
Looking the Part
The Importance of Appearance
The Role of Body Language
First Impressions Count
Sounding the Part
It's How You Say It
Sounding Confident
Using "I" Massages
Coping Techniques
Building Rapport
Expressing Disagreement
Coming to Consensus
Dealing With Difficult Behaviors
Challenge to Succeed for Women in STEM
Written by June Davidson, Ph.D., and revised by Dian Anderson
Based on the works of Jim Rohn, with his permission and best wishes.
One- or Two-day Seminar or a Six-hour Webinar
Objectives:
Personal Development
What is Personal Development?
Four Major Life Lessons
Three Steps to Personal Development
Basic Laws
Basic Law Definition
Law of Use
Law of Sowing and Reaping                                        
 Setting Goals
 Reasons Make the Difference
Long-range and Short-range Goals
The Three Categories of Every Goal
What if the Size of Your Goals
Simple Formula for Goal Setting                                            
Diseases of Attitude
 Weeds in Your Garden
How to Handle the Negatives in Your Life                                       
The Day That Turns Your Life Around
The Four Questions of Life to Ponder                                           
Unstoppable Confidence For Women in STEM
Written by June Davidson, Ph.D., and revised by Dian Anderson
One- or Two-day Seminar or a Six-hour Webinar
Objectives:
Confidence Assessment
How Confident Are You?
Controlling Your Beliefs
How to Overcome Negative Thoughts
How to Overcome Negative Comments by Others
How to Feel Confident All the Time
How to Lead a Confident Life
The Ladder of Inference
Conquer the Fear of Public Speaking for Women of STEM
Written by June Davidson, Ph.D., revised by Dian Anderson
One- or Two-day Seminar or a Six-hour Webinar
Objectives:
Identifying your Purpose
Why are You Talking?
Why do They Want to Listen to You?
Identify Your Audience
Perform a Needs Analysis
Create an Audience Profile
Identify Key Questions
Create the Basic Outline
Outline Situation
Identify the Task that had to be Performed
List Actions that had to be Taken
Reveal the Results
Organizing Your Program
Opening, Body, Review, Closing
Classifying and Categorizing Materials
Fleshing it Out
Identifying Appropriate Sources
Establishing Credibility
Citations
Putting it all Together
Writing Presentation
Edit and Rewrite
Be Prepared
Check out Venue
Gather Materials
24-Hour Checklist
Overcoming Nervousness
Prepare Mentally
Relaxation Techniques
Appearing Confident in Front of Crowds
Delivering Your Speech
Visual Aids
Check Mic and Volume
Deal with Complex Questions
Wrap-up and Wind-down
Don't Give Away Your Power for Women in STEM
1-hour webinar
Objectives:
Power Source
What is Empowerment
Definition of "Power"
Circuit Breakers of Power
Habit vs. Power
Prayer of Gratitude
Client Feedback
Wow, I honestly did not expect to get so much value from Dr. Stephie's "Top-Notch CEO Coaching Circle."  In the beginning, I thought I already knew the tips we were discussing.  Then, as we got deeper into it, I realized that — to reach my goals faster and with greater ease — I needed to reflect more on many of the tips.  I am fleshing out my ideas in more detail and, more importantly, I now write them down instead of carrying them only in my head.  Many times when I've been promised tremendous business improvements through one program or the other and I have felt ripped off afterwards.  Dr. Stephie, however, is the real deal and delivers way more value than you would ever expect.
Ted Przybylek, President, Rancho Ted Real Estate Loans & Investments
"Working with Stephie has been life changing and eye opening. Through Stephie's guidance, my team is now maximizing their strengths, creating a much more efficient and productive business. More importantly, we are all excited to come to work every day! With Stephie's coaching, I am now a much happier boss, wife and mother. I am not only reaching my vision, but I am also meeting and exceeding my goals."
Jill Harris, President, Harris Insurance Agency
The Top-Notch CEO Coaching Circle and "101 Quick Tips for high-Talent Companies" book are very helpful.  They force me to step back, pause and reflect on what I want to accomplish, as well as review Hi-Z with a fresh perspective.  Beyond that, the peer group provides an outside viewpoint from other business leaders unrelated to Hi-Z.  Having this type of forum as a sounding board is invaluable.  Thank you, Dr. Stephie!
Jill Elsner, CEO / CFO, Hi-Z Technology, Inc.
"Thank you for your strategic guidance and the "Fresh Eyes Assessment.  Through your leadership, and in a short time, we exceeded our expectations in revenue and profitability, and Giroux Glass has emerged as a stronger, independent employee ownership managed company."
Anne-Merelie Murrell, CEO, Giroux Glass, Inc.
Dr. Stephie's CEO coaching program is right on the mark. It is pragmatic — no fuss — and gets you on point quickly. I appreciate the teleconference format as it makes it very easy to participate. It is obvious she has a lot of experience and has spent a lot of time researching and developing the program to get the maximum results. I highly recommend it for anyone that is driven to be successful and wants to further improve strategies and tools needed need to get there.

Karen Taggart, President, Shades of Light, San Diego
"Dr. Stephie is a driven and highly energetic executive. She has kept the team focused, and the company growing, even during the recent economic cycle. Last year's revenues increased 41%. Stephie has expanded the company's portfolio of products and skills into new technology areas. Client satisfaction is very high."
Jim Waring, Executive Chairman, CleanTECH San Diego
My experience with Dr. Stephie was that she was very professional and she offered great insight into how a company should be run AND the tough decisions which need to be made.
Andy Gull, Project Manager, Giroux Glass
For the past 6 months I have had the pleasure of working with Dr. Stephie on a weekly basis. I must say, when I began, I did not think I was going to need the help of an executive coach for my business. I could not have been more wrong! She has been an invaluable asset, providing me with frequent feedback and coaching that has allowed me to go above and beyond at work and in my life. I highly recommend Dr. Stephie to anyone looking to grow their business and empower everyone around them. She is a dedicated asset and I look forward to continuing to work with her in the future.
Madison Meyer, Director for Business Development, Holonis Inc.
Dr. Stephie is an experienced business woman — with experience in diverse companies — including work with skills assessment, marketing, team building, sales, and leadership.  I highly recommend her!
Maureen Mason-Cover, Physical Therapist, Comprehensive Therapy
What impressed me most about Dr. Stephie is her ability to motivate me to confidently tackle challenging tasks.  She truly cares about getting measurable results for her client and this is obvious from the initial consultation through the actual coaching program.  I would highly recommend her for anyone tackling a new quest or needing to be more effective in the current one.
Mark Baldwin, Founder and Principle, Urban Farm Opportunist
Fantastic CEO!!  Couldn't ask for a better person to steer the ship of my company.  Great advisor, problem solver, people person, and system analyst.
Joy Megas, CEO, Simply Pay Yourself First